Pioneers in organic wine
Organic viticulture
For a domain on a human scale, ethics are primordial since the values we put forward are those of ecology, soil maintenance, solidarity and equity. In order to offer our customers great tasting and quality born of the harmony of the soil and the vine, we are committed to not use pesticides, chemical fertilizers and GMOs.
The story of a commitment
The Delmas Domain is a pioneer in the world of organic wine and organic vine culture.. It was indeed in 1986 that we decided to convert all of our production into Organic.
At the same time, in 1987, Bernard Delmas personally committed and joined as a Vice President then Treasurer, one of institutional groups aimed at regulating access to the organic market throughout the country: UNIA (National Interprofessional Union of organic farming).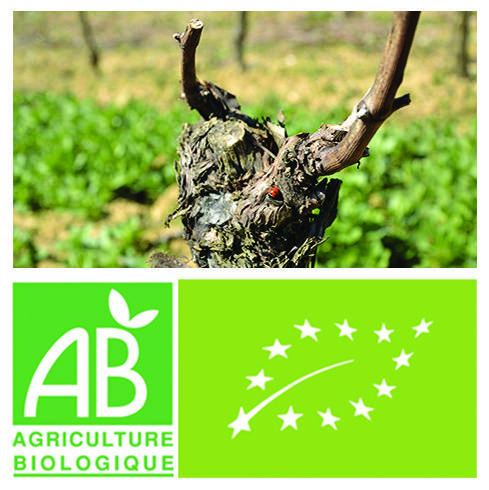 Organic expertise based on experience
Since 1986, our Domain has evolved continuously within an organic production method allowing us to develop unique expertise:
-perfect mastery of the specifications of organic agriculture: respect for the positive lists of inputs allowed, vines only fed with nutrients from natural sources, no use of synthetic products and genetically modified organisms…
-work methods that are specific and adapted to this mode of production: soil and the vine management: tilling with a spade, method of sowing between rows to loosen the soil and bring micronutrients to the ground…
-refined products of consistent quality in harmony with nature : a guarantee of trust for our customers.
Quality control
The Delmas Domain has been certified ORGANIC (AB)(AB) since the establishment of the system of mandatory certification in the early 90s – first by SOCOTEC and now by ECOCERT inspection authorities..